March 25 @ 7:30 pm - 9:30 pm Free event unticketed. All welcome. CLICK HERE to reserve tickets.
The VIC56 is an 85 foot steamship, constructed in 1945 as part of the wartime shipbuilding programme, and now preserved in working order by a small group of volunteers. Vic 56 is technically a steam coasting lighter or a "puffer". She is one of the 98 Victualling Inshore Craft built to the orders of the Ministry of War Transport between 1941 and 1945, which were a part of the enormous Government wartime ship-building programme.
VIC 56 was one of two built by Pollocks of Faversham. Henry Clearly, the owner of VIC56, will be coming to speak about the boat at a members and guests evening. With efforts to create a Heritage Harbour here in Faversham now is a good time to consider whether VIC56 should come home to Faversham.
Further information about VIC56 is available on her website http://www.vic56.co.uk
Venue: Fleur Hall accessed through the small car park in Gatefield Lane
On 4th June in the Fleur Hall at 19:30 David Wright will be talking about Tracing your Kent Ancestors, ticketed talk. Dr David Wright will be talking about how to trace Kentish ancestors, outlining the principal records as well as some of the county's many other rich but sometimes overlooked genealogical sources.
http://www.drdavidwright.co.uk/
Tickets from the Fleur, in Preston Steet, or on the door.
People, Plaice and Chips: Fisheries and sense of place,The management of fisheries tends to focus on economic and biological factors with cultural issues often neglected.
Dr Tim Acott FRGS, Director of the Greenwich Maritime Centre, puts forward the idea that sense of place can be used to make visible a range of social and cultural values that emerge from the process of marine fishing.
He will give a talk, People, Plaice and Chips: Fisheries and sense of place, at the Fleur hall at 7.30pm on Monday, 20 November.
"Sense of place" is an underused concept in resource management in general and within fisheries management in particular but it has potential to contribute to the evaluation of cultural services in a way that is accessible to a broader range of stakeholders, including policymakers and
those involved in developing sustainable communities.
Tickets are £5, or £3 for Faversham Society members
Tim Acott is a Reader in Human Geography at the University of Greenwich. He is Director of the Greenwich Maritime Centre and is currently the Chair of the Coastal and Marine Research Group at the Royal Geographic Society. Over the last 8 years he has worked extensively on understanding the social and cultural importance of fisheries through sense of place and cultural ecosystem services. He has co-edited two books, 'Social Issues in Sustainable Fisheries Management' (2014) and 'Social wellbeing and the values of small-scale fisheries' (2017) and has published numerous articles. His most recent research is leading a project exploring the socio-cultural values of wetlands.
Dr Tim Acott graduated with a BSc Hons in Environmental Science from the University of Plymouth in 1989. He subsequently completed a PhD at the University of Stirling and started to lecture at the University of Greenwich in 1993. His academic interests revolve around a social science perspective on environment and sustainability issues. To explore this subject area he crosses a number of subject boundaries including: environmental ethics, sustainable development, landscape, sense of place, environmental sociology, social and cultural dimensions of marine fisheries, GIS, actor network theory, hybrid geography, wildness, sustainability, allotments as hybrid spaces, and qualitative research methods. In addition to his academic portfolio Dr Acott also actively explores different environments through painting and photography.
Tim Stonor & Harold Goodwin – two trustees on their day jobs and their relevance to Faversham.
This event is in the Fleur Hall and is jointly organised with the Faversham Creek Trust. October 2nd 19:30
Tickets £5, for members of the Faversham Society and the Faversham Creek Trust there is a discounted price £3. Tickets available from the Fleur in Preston Street.
Life beyond yellow lines
The science of smart towns and cities
Tim Stonor is an architect and urban planner who advises public, private and community organisations worldwide. In the course of his career, he has pioneered the development and application of "predictive modelling" - using computer algorithms to forecast the impacts of design proposals on human behaviour patterns. His projects include the redesign of Trafalgar Square and the creation of the Queen Elizabeth Olympic Park.
Tim is Managing Director of the strategic consulting firm Space Syntax Limited, which he established at University College London in 1996. He is a Trustee of the Design Council, a Visiting Professor at University College London, a director of The Academy of Urbanism, a Fellow of the Royal Society of Arts, and a winner of the prestigious Harvard Loeb Fellowship.
Closer to home, Tim is a trustee of the Faversham Society, a member of the Town Council's Public Realm Group and a member of the Friends of the Westbrook and Stonebridge Pond. He is closely involved in the campaign for a 20mph limit across the town. In recent years he led a widely-supported campaign against the painting of yellow lines in the town centre. He is currently opposing the further painting of double yellow lines around the Guildhall, proposing instead a design-led scheme that includes planters and seats.
Using Tourism to Make Better Places to Live in
The aspiration of Responsible Tourism is to use tourism rather than to be used by it. Tourism can bring economic benefits, trade and jobs – there is little doubt that Faversham would not have such a rich variety of quality food and drink if we did not a attract tourists and day visitors. Overtourism is emerging as an issue in more and more destinations – what can we learn from problems elsewhere to ensure that in Faversham we maximise the positives and minimise the negatives.
Harold Goodwin has theoretically retired but he is now an Emeritus Professor at Manchester Metropolitan University where he leads on Responsible Tourism in the Institute of Place Management. He is managing director of the Responsible Tourism Partnership which organises a free Responsible Tourism programme at their trade shows in Dubai, Cape Town, Sao Paulo in November - ~ 2,000 people attend at of sessions over three days at WTM London in November. He chairs the family of global and regional Responsible Tourism Awards and an annual series of conferences on Responsible Tourism in Destinations in September this year in Iceland and October in Dublin.
Harold Goodwin has lived in Faversham for forty years, refusing to move for work he was a Professor in Leeds and Manchester but he did not relocate. He is Chair of the Faversham Society and of the Faversham Sea Cadets and a founder organiser of the Faversham Food Festival. He represents the Society on Visit Faversham and Historic Swale. He is President of the Timothy Taylor Appreciation Society based in Faversham and one of the organisers of Taste Faversham. www.haroldgoodwin.info
Arthur used always to repair to the Bear after his classes, for the Faversham Society lectures we plan to follow in his footsteps. We'll repair to the Wine Vaults opposite.
Professor Paul Binski, Professor of the History of Medieval Art and Fellow of Gonville and Caius College, lectured on the history and significance of the wall paintings presently obscured by the organ in St Mary of Charity. Paul Binski's lecture attracted between three and four hundred people.
Listen to Paul Binski's lecture
Paul rates the wall paintings, which date to about 1300 as amongst the best 10 in the country. The rare surviving mediaeval column was dated to between 1240 and 1260 by Paul Binski.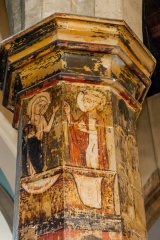 There is more about the church here http://builttoinspire.org/inspiring/
The lecture was jointly organised by the Faversham Society and the PCC
The church was listed Grade 1 in 1950