Professor Paul Binski, Professor of the History of Medieval Art and Fellow of Gonville and Caius College, lectured on the history and significance of the wall paintings presently obscured by the organ in St Mary of Charity. Paul Binski's lecture attracted between three and four hundred people.
Listen to Paul Binski's lecture
Paul rates the wall paintings, which date to about 1300 as amongst the best 10 in the country. The rare surviving mediaeval column was dated to between 1240 and 1260 by Paul Binski.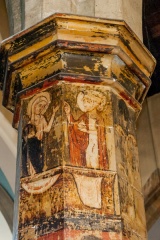 There is more about the church here http://builttoinspire.org/inspiring/
The lecture was jointly organised by the Faversham Society and the PCC
The church was listed Grade 1 in 1950